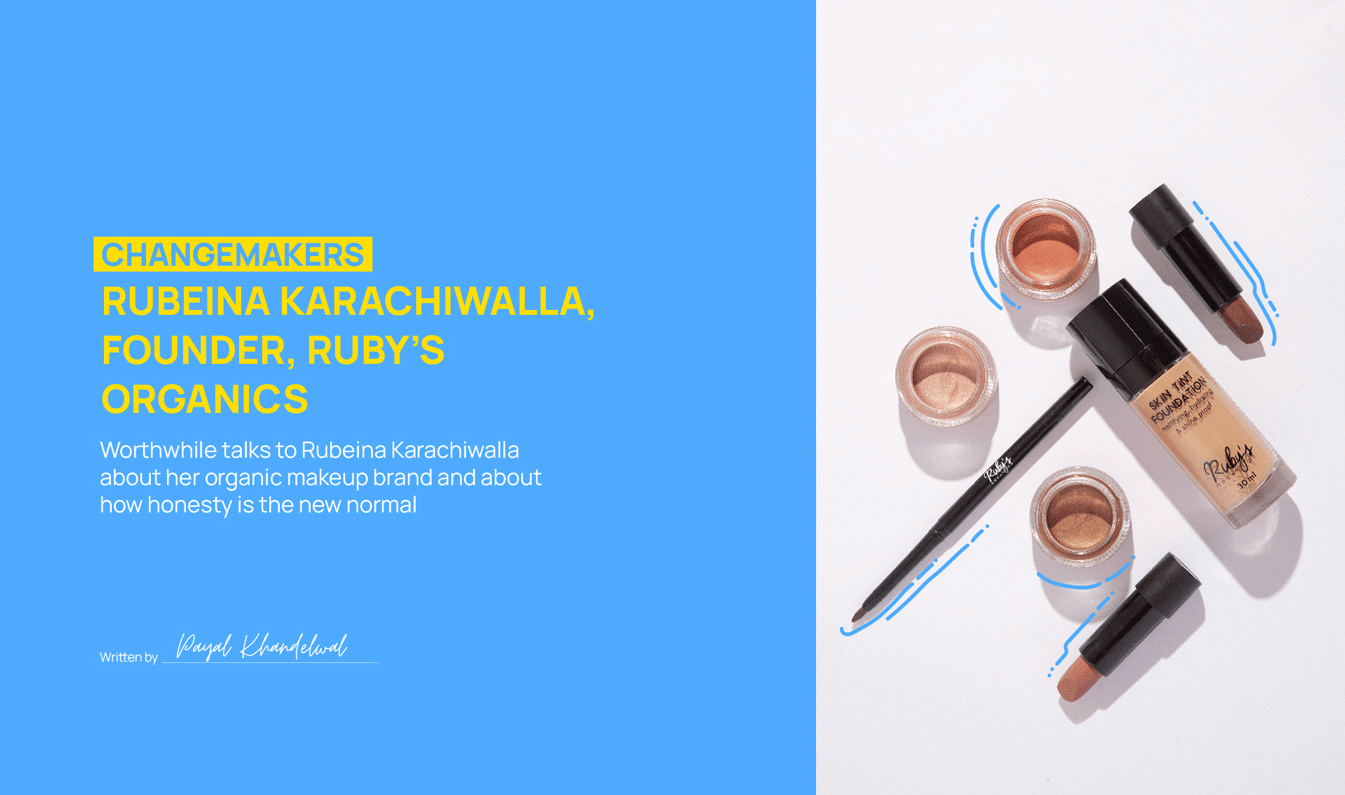 Ruby's Organic
Over an hour long Zoom video chat, Rubeina Karachiwalla took us through the journey of her brand Ruby's Organics that launched in the market in 2017, and is today often celebrated for being the first organic makeup brand in India. After quitting the PR industry, Rubeina had an introspective phase where she decided to move forward by combining doing something meaningful through her work and her lifelong passion for cosmetics. Rest, as they say, is really history. While being an organic makeup brand with a pretty extensive range of products in itself is great, however, Ruby's Organics continues to stand out for its honesty and transparency with its consumers. This is quite clearly reflected in not only our conversation with Rubeina but also in the brand's communication on social media platforms.
Without any further ado, let's dive straight into our inspiring conversation with Rubeina. Edited excerpts:

After I quit my job in PR, I was going through this extremely dull phase – that in-between phase where you have pretty much tried everything you thought you were good at but somehow did not feel completely satisfied. I was becoming complacent and bored. I wanted to do something and also make some difference in the world. I kept thinking about what it is that I am truly passionate about and that was makeup and the cosmetic industry in general, and that led to an epiphany of sorts which became Ruby's Organics.
This was around six years ago though when the idea of homegrown cosmetics was far from even conceivable. But when I had the idea, I called my best friend, who's a graphic designer and she's created the entire identity for the brand. I actually thought she would think I have gone crazy but she said that this sounds exactly like what I was meant to do. Then I also had to think about what I can do with my makeup brand that the bigger corporates aren't doing. Because if you're not able to differentiate yourself or stand for something meaningful, it's difficult to exist in the market. On the other hand, I had issues with the make-up products I used because my skin is very sensitive. So creating a healthy make-up brand became a way to fill the need-gap and to be unique.
At that time, a lot of clean make-up brands were being launched around the world and I wondered why can't we do this in India? Why can't we have access to just something safer and thus, guilt-free for women.
I experimented on my own for sometime with the ingredients and then involved an R&D company to take this idea forward.

All the time. And not too many people had faith in me. However, when you're really passionate about something, I think you become extremely determined. You don't want to take no for an answer. Also, somehow everything happened at the right time and place for me fortunately. Had I launched the brand a year or two years earlier, it would not have been the right time. If I had done it now, we wouldn't have enjoyed the novelty. So it was very perfectly timed for us.

When I started working on this, there were so many risks involved and there was so much uncertainty especially because it was such a new concept that time. And this is why I didn't want to take the responsibility of any external funding.
I decided to take it slow – introduce the product to the market, educate the consumer, not focus on profits and volume, and just build the market in the best possible way. With very limited resources, I had to hustle a lot and pull some strings. I used all my contacts that could potentially help. My best friend still hasn't charged me for all the work she's done. I used my FDs and some provident fund, borrowed some money from my family, and started Ruby's Organics with just INR 15 lakh.
We are now very much looking at external funding, now that we are established. We have a solid grounding. We know where we want to go and we're confident of reaching there. We are in talks about the funding but due to the current circumstances, everything is on hold right now.

Absolutely. We take consumers' feedback very seriously and have "co-created" various products with our consumers. This is one big advantage of being an independent brand. Big corporates have access to millions of people through their database and a lot of capital to fund market research to understand the current trends. For an independent brand like us, we have to bank on the data we can trust. And thankfully smaller brands have the ability, and the joy, to connect with their consumer at a very personal level.
There are times when I'm chatting with a consumer on Instagram chat, even though we have a customer support team. Everybody in my team chimes in and listens to what people have to say and what they really want. None of these big corporates will listen to what their customer is saying or complaining unless the complaint is of course magnified on a large scale.

As a millennial, I feel I have had the ability to observe and understand what other brands are doing and take inspiration from them. I realised that people are hungry for more authentic content, for more truth and honesty. But you'll still see so many brands making false representations, exaggerated claims, looking at consumers as a means to an end without ever thinking that your customer may be 10 times smarter than you. And they are! They may not express what they feel but they are thinking it and they're forming an opinion. So when we started, I told my team that we just have to be very honest and transparent with our consumers, and especially since it's an organic product, we can't make claims like 'oh, this will give you full coverage or this is a flawless foundation'.
And people started to appreciate this, and of course, a lot of the social media "strategy" came during and after the launch. And we still continue to understand from our consumers about what works, what doesn't. It's a constant process of co- creating.

When we initially launched, quite a few people started wearing our products and posting about it online. And we were like, 'this is amazing. We should do user generated content. Just like Glossier does, but ours was not really planned. We started doing more demos without any kind of photoshop and like ridiculous, exaggerated filters that make women look completely different than they are. We were authentic about our videos as swatches, while maintaining the aesthetic of a premium brand.
Then when the lockdown started, we kind of took a break and decided to give our community something they wanted to hear more about, instead of simply putting product pictures up and telling them to buy our product. We wanted to have an open conversation around something that's important for us and our consumers. So for the campaign 'Beauty for Change', we spoke to many women from different fields, especially connected to the media, to talk about how mental health is kind of impacted by the constant stereotypes for women, a lot of which are created by the media. And for younger women especially, who still haven't come into their own and whose lives are extremely dependent on social media. At least we have had a life without social media but the current generation hasn't. So what they see on social media is very real for them. So how can beauty brands and the media can take responsibility for this and change the way we communicate. That was the intention of the campaign.

Ruby's Organics is not just about organic makeup. It's a much larger movement and a part of a bigger picture which is 'clean beauty'. Under this, we're also talking about sustainable ingredients, sustainable packaging, cruelty-free ingredients, and some of our products are now vegan as well. It's very difficult to have a vegan and organic formula together, but we're trying to work on that.
We are also waterless, which is a huge trend right now. So these micro trends are constantly changing, which is why being 'clean' is something that defines us and will never change. But there are other micro-trends under which we can always operate. For example, we are coming up with a biodegradable line of lipsticks which will completely vanish once they're over.
People are becoming extremely conscious about what they use more than ever. And more and more brands coming into this space is the best part because they're educating the customer even more and will create a ripple effect. Eventually, there will be more demand for clean cosmetics and most people would move in this direction. And that's a great thing for the environment, you know. Responsible and purposeful consumerism will take centre stage. This is the future we're looking at, and it's undoubtedly going to happen. And I'm more confident about it than I ever was.

We have licensed our manufacturing to a company based in Umbergaon, Gujarat. Despite a license agreement, we are very much involved in the sourcing and development of our products. All our suppliers are vetted by us, not our manufacturer. We buy directly from the producer in most cases, only the ones that are imported are bought from third-party suppliers here.
All our ingredients are either Ecocert (those that are naturally occurring but not plant-derived), COSMOS (those that are plant or bio based ingredients) or NATRUE ( an alternate organic/natural certification) certified, except an ingredient called Isopropyl Myristate (IPM) which is synthetic but is used in some of our formulas in less than 0.1% quantity. Our formulations are derived without the use of primary microplastics or any petro-based chemicals. The minerals and colors we use are approved as food-grade colors.
We use mainly aluminum, glass, and PETG plastic for the containers. The glass pots we sell the majority of the products in are reusable. For the lipsticks and kohl pencils, we encourage the customers who buy directly from our website to send the empty packs back to us, and we send them back to the facility to repurpose. We want to do this on a much larger scale once we open offline retail channels. Our external packaging uses paper without any laminates or UV printing.

The price is a reflection of the quality standards we employ. The certified ingredients we use are often 4X the price or non-certified ingredients. Our packaging is also of a high standard that reflects greatly on the price points.

Don't hurry as it's not a race. Make sure you do your due diligence really well. And while your marketing is flexible and can be changed anytime, your branding and what you stand for is very important to determine at the very beginning. It's important for you to know how you want to make a difference; how you intend to sell your products, who do you intend to sell it to – be very sure of all these fundamental things.
You have to be resilient and flexible in the way you plan things. What was working on day one might not work on the day 350th for example. You also have to have a clear differentiator from the other brands in the same space. You have to be honest and transparent with your consumers. Honesty is the new normal today. And be accessible and have a more realistic approach in the way you communicate to your audience. Don't assume that they don't know better, because they do.
I would also say that don't jump into raising funds and raising capital without understanding and having tried the market yourself. It's very important to give yourself a little time to see what's possible, what isn't, and how your audience is reacting. So you have the luxury of taking the time to work on things that need re-working.