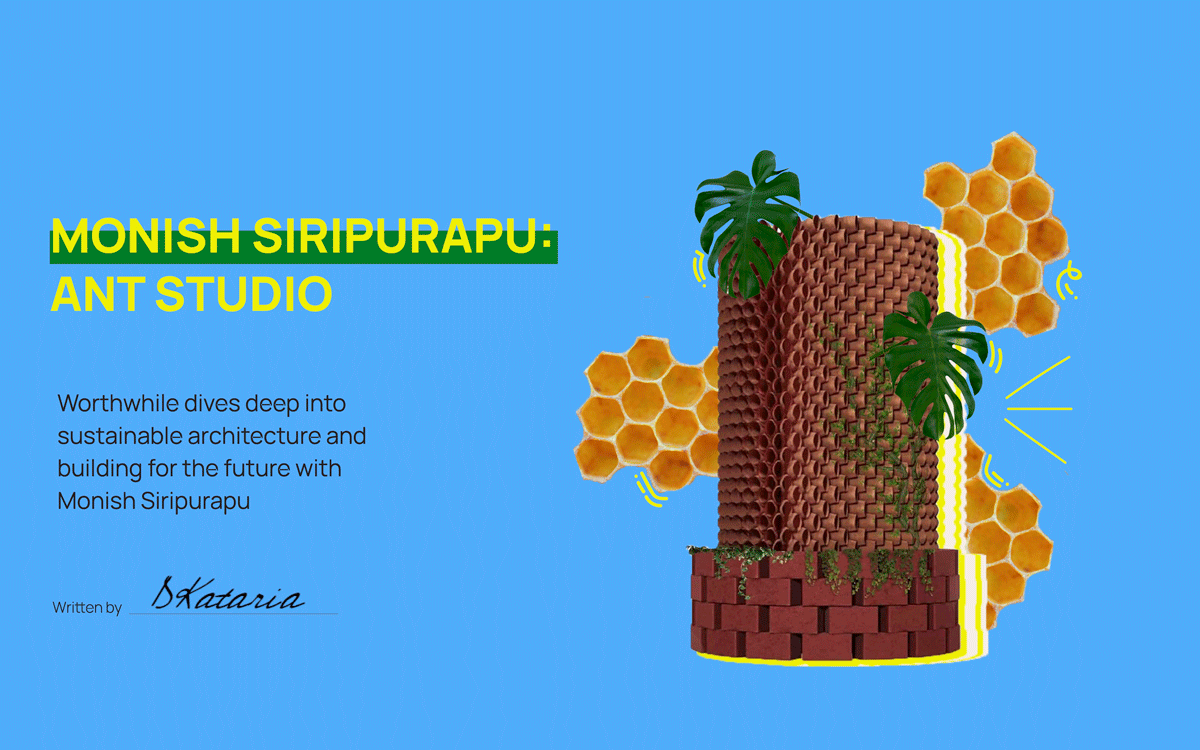 In conversation with: Ant Studio
MONISH SIRIPURAPU, FOUNDER AND PRINCIPAL ARCHITECT, ANT STUDIO
Extreme weather, from heatwaves to floods, has captured headlines and our mind space in recent times. And it looks like it's here to stay, especially until the world comes together to make drastic changes that can help bring back a sense of equilibrium. In this ever-changing landscape, building homes and structures that can stand the test of time and climate change while not adding to the environmental degradation can be a mammoth challenge. But it's a challenge that Monish Siripurapu and his team of Ants at Ant Studio have been tackling relentlessly for over a decade.[/vc_column_text][/vc_column][/vc_row]
Monish took inspiration from one of the most amazing architects to be found in nature – ants. Right from building fascinating, thermodynamic ant hills to the way they communicate with each other, Monish has imbibed the learnings from ants to use natural materials to build modern habitats. After graduating from the School of Planning and Architecture, Monish founded Ant Studio in 2010 with the intent of fusing Art, Nature and Technology to create structures that push the needle – not just from a sense of aesthetics, but to offer solutions that foster a sense of harmony for his clients. Using his learnings, he went on to develop an artistic, all-natural cooling solution called CoolAnt that uses terracotta to provide a low-energy alternative to air conditioners.
Edited excerpts from our interview:
One big trend we're noticing is that a lot of people are moving out of cities, people are coming to us, not just for second homes in the lap of nature but primary homes where they work remotely. This has given rise to eco societies where people are consciously thinking about how they contribute to the land and culture around them. And what's been great to see is that sustainability is no longer a second thought, people are coming to us with intent – we are now starting to talk to clients about carbon emissions right at the beginning and keep it in mind for every important design decision, right from the building materials to the facade.
I wouldn't name one particular material, but we're super excited about building with terracotta. We're exploring many different ways in which we can include it in place of cement. Holistically, you cannot build with just one material but now our conversations are not just about the cost but how each choice affects the overall impact. The most important thing to keep in mind is how we can maximise local materials while building – it doesn't make sense for us to fly materials across the world in the quest to be more sustainable.
I've always been inspired by the works of Geoffrey Bawa, Gaudi and even Da Vinci. My early work consisted of a lot of sculptures inspired mostly by nature forms. But really, CoolAnt was one of the biggest turning points in my life. We went into it without knowing much about what we were doing – we first conceptualised this as an art installation inspired by a beehive that can cool its surroundings for a factory in Noida. We were not anticipating the kind of response we got after that first installation and we wanted to do justice to the idea – we went back to research to understand how we could take this solution and tailor this to different spaces.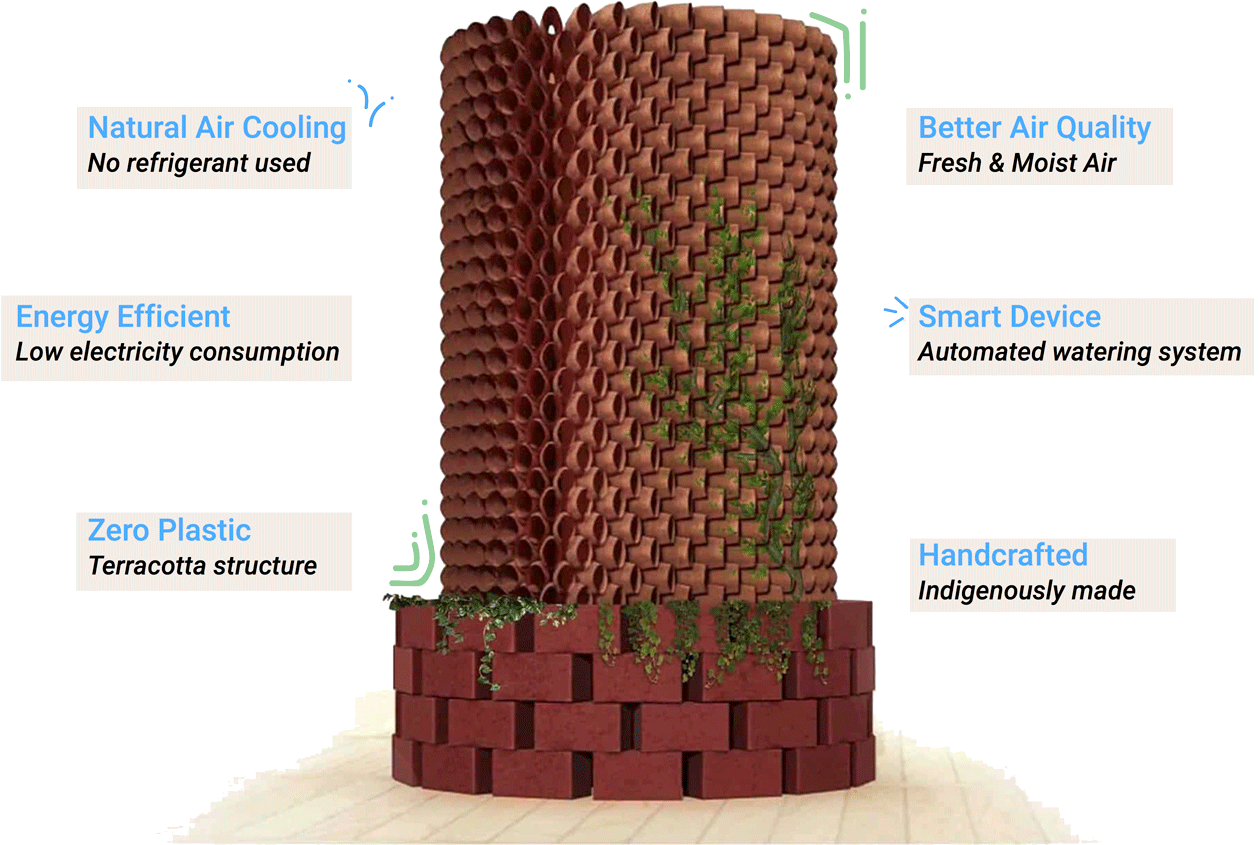 The beehive inspired CoolAnt solution that uses ancient natural techniques to reduce the temperature by 5 to 15 degrees celsius in outdoor and semi-outdoor environments.
We conducted a comparative analysis for different materials. Comparatively, terracotta emits much fewer carbon emissions. Terracotta has been a material we've used for different purposes since ancient times, like for building matkas to keep water cool. Talking about cooling, terracotta is hydroponic in nature and has the unique ability to be solid as well as porous due to which it allows water to evaporate from its surface and provides a cooling effect in the surrounding. Another thing that makes it so attractive is the life cycle – once it reaches the end of its usable period, it becomes earth again. We've also considered using ceramic before but since terracotta can be made by local craftspeople and doesn't require incredibly high temperatures, we've focussed on this material.

Currently, mechanical air conditioners and coolers have led to a 'cooling paradox' where cooling the world is warming the planet. Our mission with CoolAnt is to reduce our dependence on air conditioners with CoolAnt systems that use the evaporative cooling technique and consume less electricity.

The response has been tremendous and overwhelming. Even through the challenges of the pandemic, we've received a lot of inquiries. We're seeing CoolAnt becoming a regular feature in our homes and factories, and we're trying to service as many requirements as we can and have installed CoolAnt products in 25 projects. We've also just launched the beta program for Ether – our personal cooling product that can simply be plugged in on your desk to experience the power of cooling. Once we get more insights into how the performance and experience is first-hand, we're excited to ramp up production and actually make this product available to a larger audience.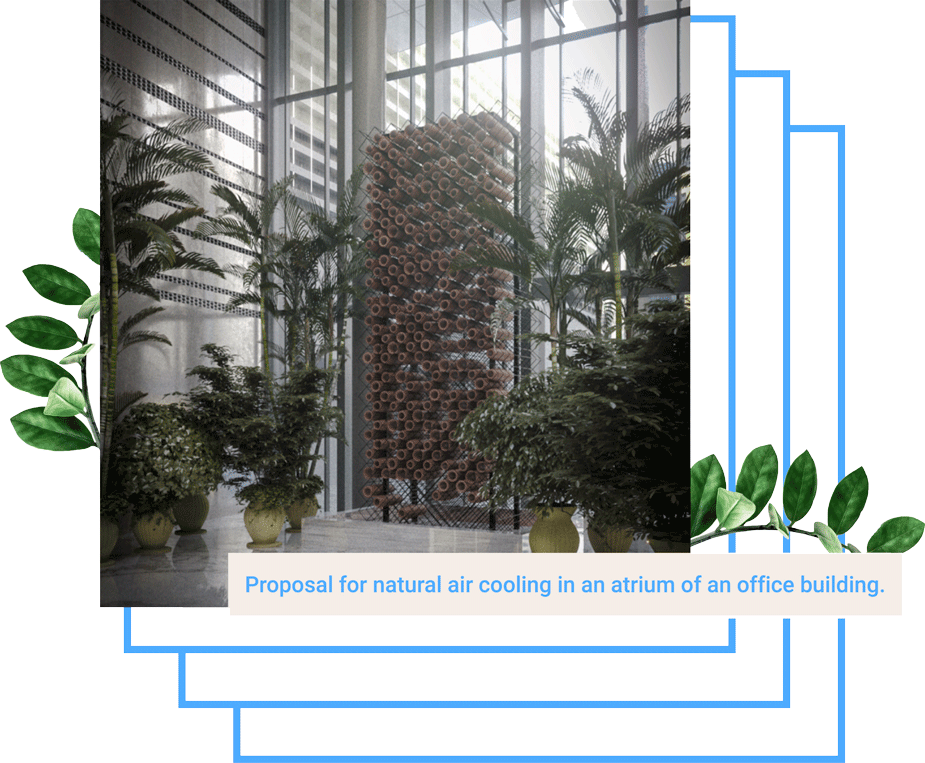 Proposal for natural air cooling in an atrium of an office building.
This is basic but it's the most important element – natural ventilation. It's not just cheaper in terms of cooling and energy consumption but it's crucial for your health. Another thing I recommend is having overhangs while designing so that you can reduce the amount of heat entering the homes. A lot of good design decisions can be made by exploring the traditional techniques relevant in that geography. And lastly, question your materials – understand where they come from and see what are the local elements available around you.