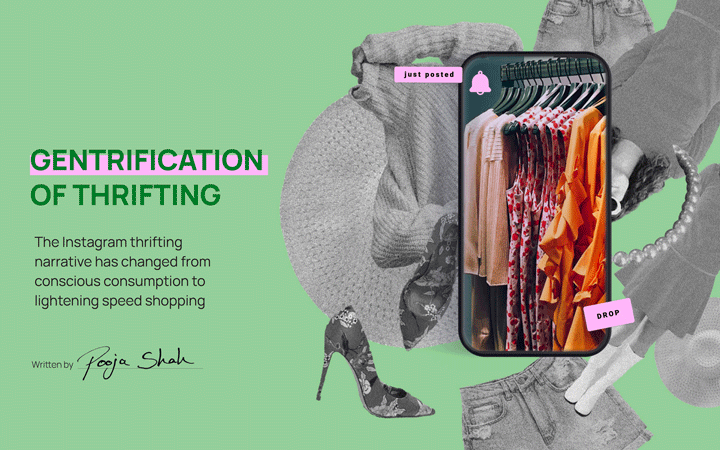 Gentrification of Thrifting
Yes, I know. It hasn't even been 6 months since an in-depth article was written on the rise of thrifting in India and why it's a game-changer in the shopping ecosystem. But in the time the article was written, edited, designed and finally published, the Instagram thrifting ecosystem took a turn- for the worse.
If you're new to the concept of thrifting or its carbon footprint on our planet, read our explainer on it here. By no means is thrifting bad and in no way is this a clickbait message but the new thrifting culture needs to be called out.
Instagram thrifting works in a way where the page owners curate an appealing collection by handpicking the pieces via markets, contacts or through re-selling.
And, man oh man, do they have an attractive collection. Right from vintage, retro to trendy clothes you can thrift almost anything, for any gender. And this led to its rising popularity.
Even so, fashion influencers like Komal Pandey and Dolly Singh have jumped on the bandwagon, posting reels in thrifted outfits. The additional thrifting haul videos don't make it easier on the consumer, encouraging them to thrift more under the pretext of 'doing good' to the environment. This has also led to an increase in prices for thrifted clothes which otherwise used to be affordable. Thrifting is no more a taboo but in fact a fashion trend!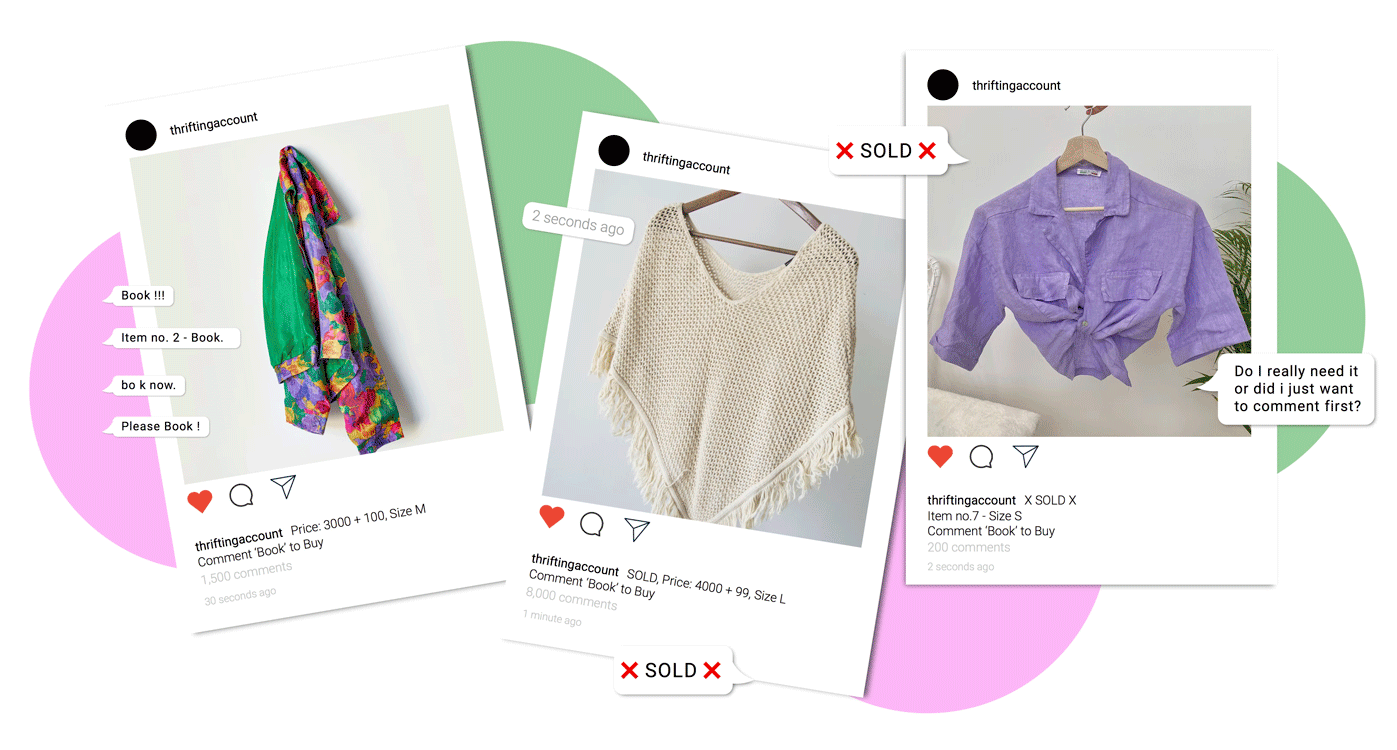 Back to the process! Once the collection has been curated, the pieces are shown on the page as a precursor either on stories or reels with a countdown on when the drop is live. Sometimes, the entire collection isn't shown, but just a tease to know what's in store. Once the collection starts going live you can either buy the piece by dropping a comment saying 'book' or being the first one to DM them to buy it. All of this takes place within 5 – 7 seconds since the piece has gone live. SEVEN SECONDS!
An end of season sale at Zara gives you a longer time to think than the current thrifting scenario. No, we're still condeming fast fashion. You don't even have the time to know if you truly want the piece, add it to your cart and sleep over it for a few nights. It's a matter of a few seconds on a first come first serve basis. Speaking from personal experience, the amount of mindless consumption this has led to is unaccountable. And full disclosure, I haven't worn what I've bought because I bought it out of greed and not need or want. I just wanted to be the first one to comment 'book' and beat the others to buy it.
Another angle we tend to forget is the hand me down tradition that has its deep roots in our culture. Higher demand and too many players has led to a rise in competitive prices to make thrifting more profit centric instead of planet and people centric. Resellers often sell the clothes at competitive prices that turn them a profit. Thrifting has now become a fashion statement instead of a way to consciously shop.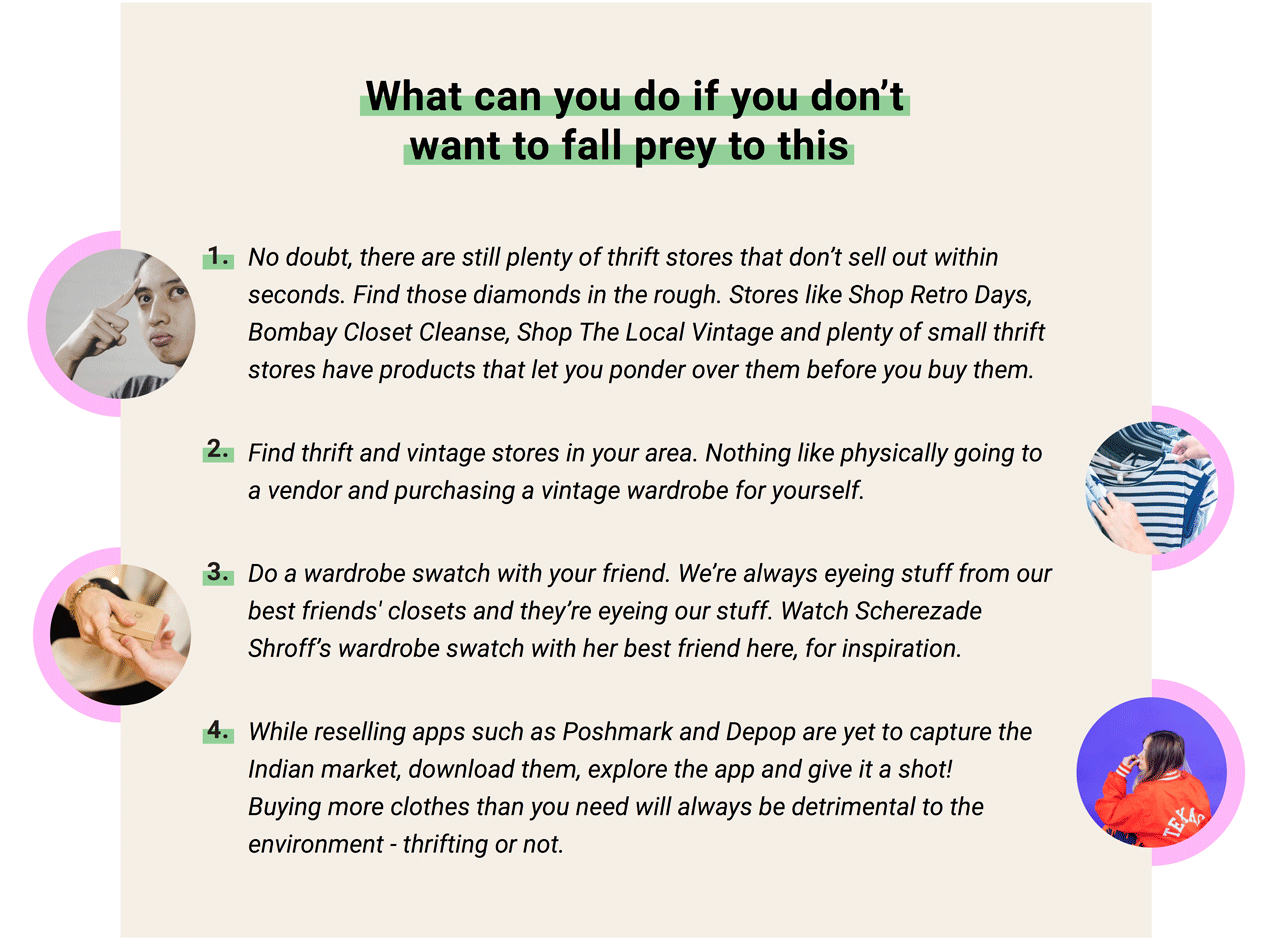 So the cat's out of the bag. I've stopped instant Instagram thrifting. Don't get me wrong, I'm still always going to be an avid thrifter, but only for pieces that I can take my time to make a decision about. If it requires me to play the fastest finger first, sorry, that's not for me. I'm leaving mindless consumption that has a pseudo-feel-good factor attached to it in 2021.